Kenneth Cole - Promoting The Myth
Kenneth Cole is a fashion designer who ran this ad in several magazines around the country, inflaming Father's Rights advocates everywhere.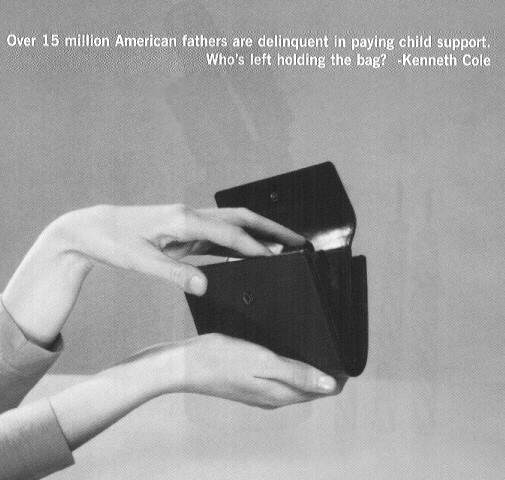 Kenneth Cole is a fashion designer who makes, among other things, ladies handbags. Recently, his company ran this ad in several magazines around the country, inflaming Father's Rights advocates everywhere.
Apparently Kenneth Cole thinks it's an acceptable business practice to use inflated and outright fabricated statistics to sell his merchandise.US Census Bureau statistics place the number of fathers delinquent in their child-support obligation at around 700,000- a far cry from the
15 million
that Kenneth Cole's advertising department would have you believe.
Too bad Kenneth Cole doesn't make wallets. He could give one to every divorced father to remind him of what society and the Family Court system thinks he is- a wallet.
After sending email to the offices of Kenneth Cole about this matter, their response, in part, contained this comment:
"We have a long-standing history of providing social commentary through our
advertising. We have built a relationship with consumers like you who have
taken the time to express your concerns and thoughts to us. Consumer feedback
has enabled us to continue to focus our commentary on relevant issues. we
greatly appreciate your efforts. Your commentary is an invaluable resource to
our company."
Sincerely,
Meryl King
Consumer Relations Manager
Frankly, we don't buy it. If they really want to "focus...commentary" on "relevant issues", maybe they could do an ad on the
blatant gender bias
in divorce and custody cases. Perhaps they could do an ad on the effects of Parental Alienation Syndrome. An ad on the tidal wave of
false accusations of sexual abuse
that occur in child custody battles would also be timely and relevant. The problem, as Kenneth Cole sees it, is that these issues aren't Politically Correct and so they'll never see the light of day.
The fact is, that out of 10 million custodial mothers, only 700,000 do not receive child support because of "deadbeat dads". This is not minimize the problems that those custodial mothers face. But "deadbeats" are by far the minority. Keep this in mind the next time you hear yet another story about all of those "deadbeats".
(Sources for data: GAO/HRD-92-39FS, January 9, 1992, and DHHS Greenbook, chapter 11
)
If you'd like to let Ken Cole know how you feel about his attacking fathers in order to sell purses, call him toll-free at
1-800-KEN-COLE
.
Finally, for the real statistics on parents that don't pay support (and why), take a look here:
Myths, legends and the American Way: Deadbeat dads
.